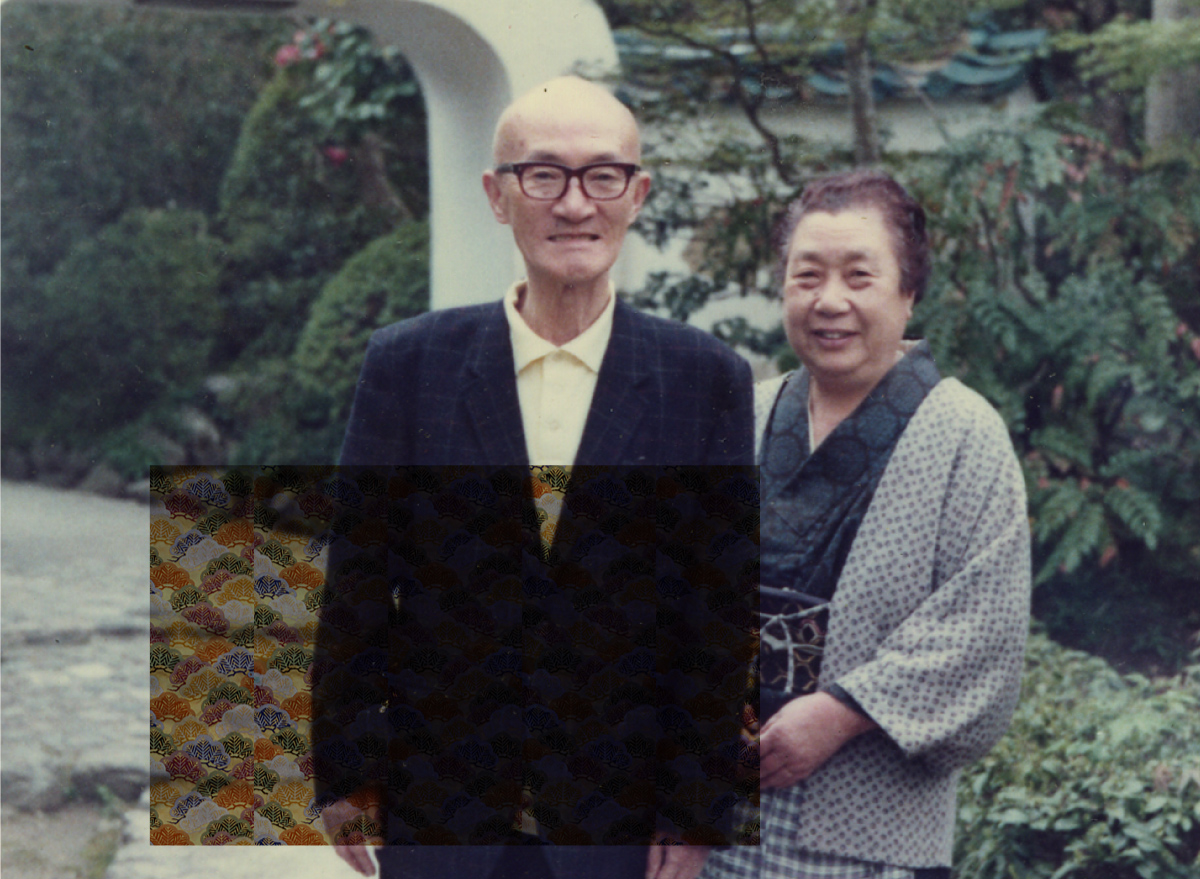 考案に行き詰まることなどなく、湧き出るアイデアを持て余した。最盛期は多くの弟子を抱え、1カ月に150~200枚を創案。後進を育てると共に、現在も西陣の帯地製作の指標となる優れた図案を遺している。

Gifted with a keen sense of imagination and creativity, Kayo Wakamatsu never ran out of ideas for designs. At the peak of his career, he trained numerous apprentices and together with them created around 150 to 200 pieces a month. His Nishijin Ori brocade designs for the obi (a decorative sash worn with the kimono) continue to awe and inspire designers to this day.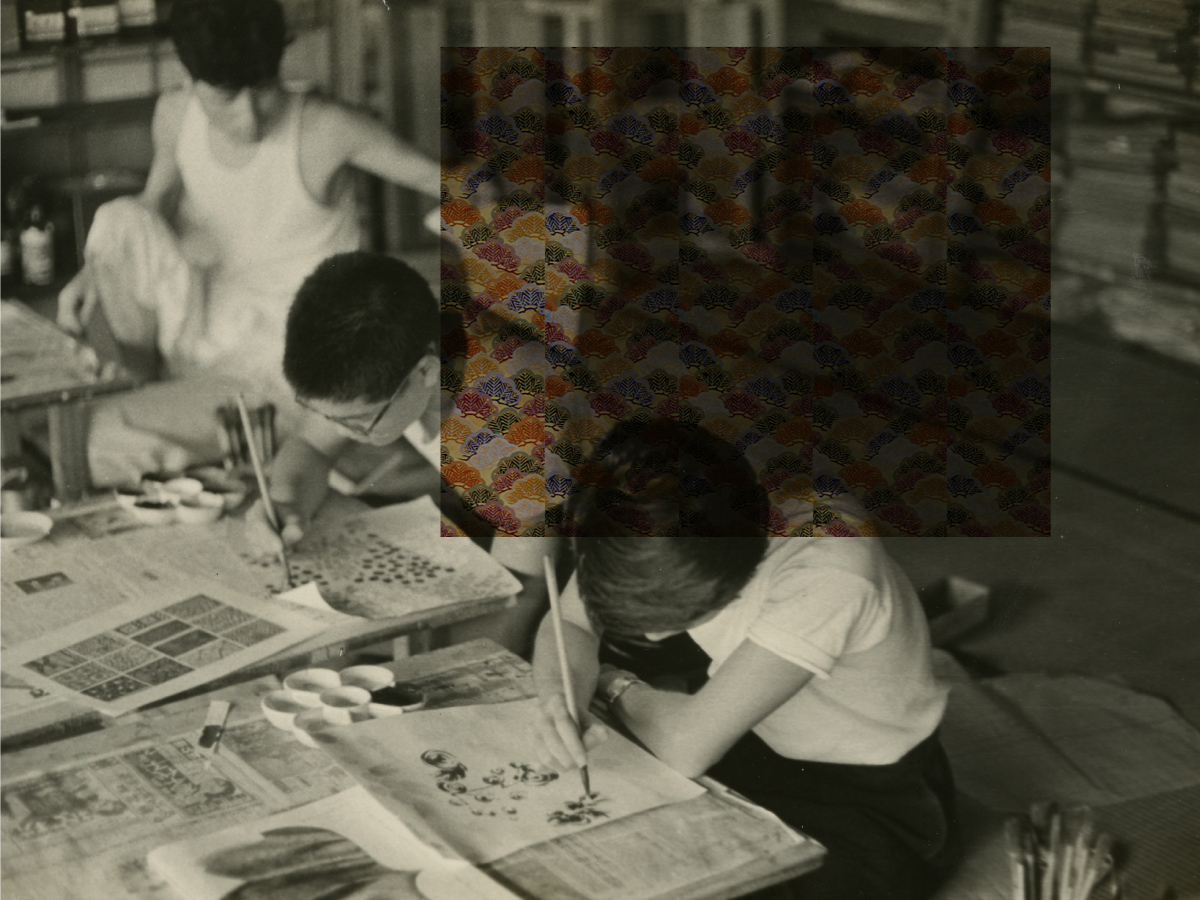 工房を作り職人を育てながら、昭和の能装束を制作し、新しい図柄の創案に尽力。西陣織、中でも唐織りで世界に能の精神を伝えようとした。昭和49年に『昭和能装束百種』を完成後急逝。同年京都市美術館で遺作展が行われた。

In addition to setting up a workshop to train apprentices under his tutelage, Wakamatsu dedicated himself to making traditional Noh ostumes of the Showa era (1925 – 1989), while also exploring innovative costume designs. Through his creations that employed Nishijin Ori textiles, in particular the Karaori weave, he sought to convey to the world the true spirit of the Noh art form. He died a sudden death in 1974 after the creation of his masterpiece collection, 100 Showa Noh Costumes was completed. A memorial exhibition of his work was held at the Kyoto Municipal Museum of Art the same year.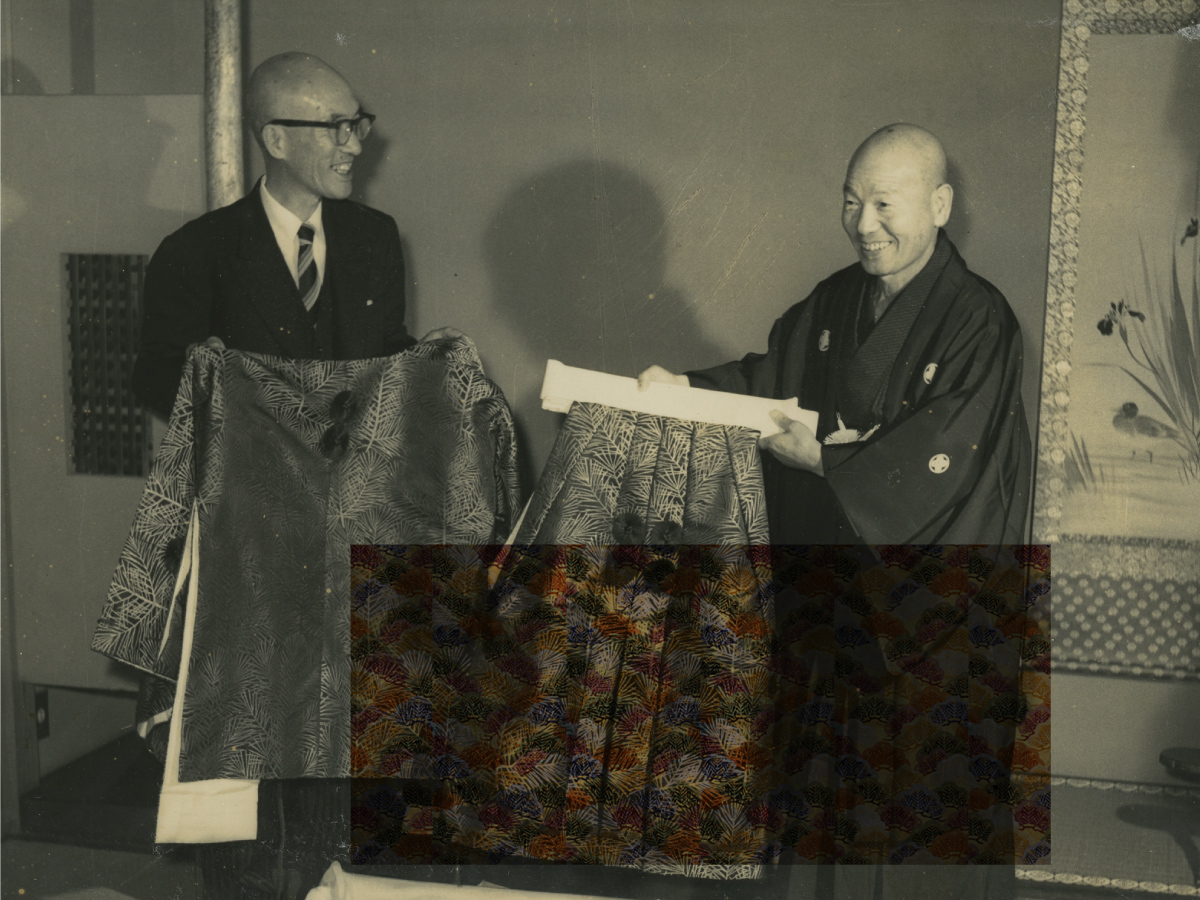 痩せていて相撲取りにはなれないと、行司に憧れ、自作の装束を贈る。昭和33年、二十二代木村庄之助氏から昭和49年木村玉光に至るまで、実に29着の装束を土俵上に華咲かせた。

Unable to become a sumo wrestler himself due to his small frame, Wakamatsu had great admiration for sumo referees and presented them with costumes he personally created. A total of 29 costumes made by Wakamatsu have adorned the sumo arena, beginning in 1958 with the 22nd Shonosuke Kimura to Tamamitsu Kimura in 1974.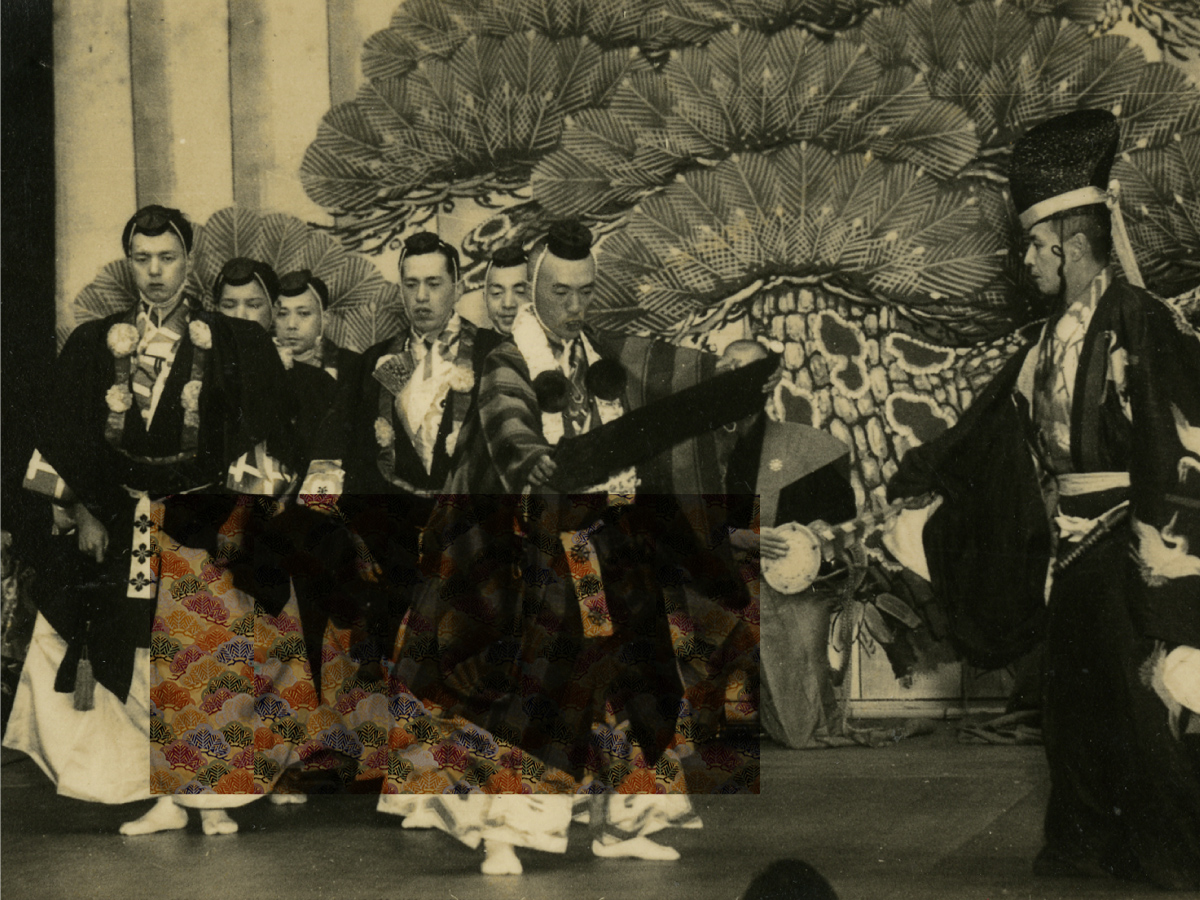 百三十番以上もの演目を舞い、いかにして軽い装束を、また現代の能舞台に映える装束を創るかと、研究に研究を重ね、生涯、能装束の製作に取り組んだ。

Having performed over 130 roles himself as a Noh dancer, Wakamatsu dedicated his life to research into creating ever-lighter costumes and adapting them to suit modern Noh plays.
多忙を極めながらも、華やかな交遊を繰り広げる。角界をはじめ、歌舞伎役者や日本舞踊家、女優たちも若松華瑶のきものと人柄に惹かれた。西陣織の紋柄を織り出すために織機にかける紋紙(パンチカード)を焼き、祇園や先斗町の芸妓たちを呼んで祀るのは、年中行事のひとつであった。

Despite his busy life, Wakamatsu enjoyed the companionship of friends from various walks of life. People from the world of sumo, Kabuki actors, performers of traditional Japanese forms, and even contemporary Japanese actresses were all drawn by the beauty of his kimonos and his pleasant personality. Every year he would distribute punchcards (mongami), that were used on looms to make designs (mongara) on Nishijin Ori textiles, to geishas from the Gion and Ponto-cho districts of Kyoto.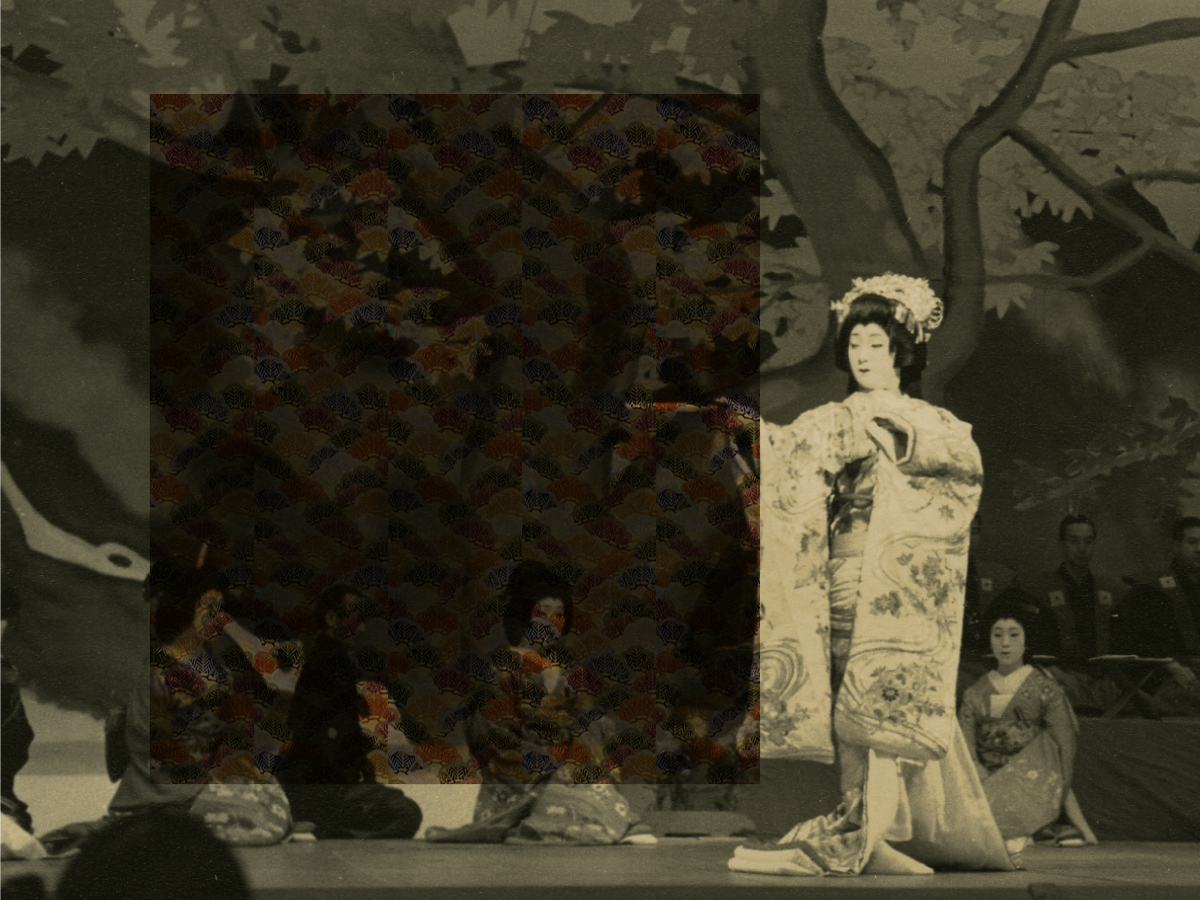 昭和49年初代亡き後、二代目として娘が若松華瑶の名を継ぎ、株式会社若松を継承。二代目 若松華瑶は、幼い頃より日本舞踊を習い、自身のリサイタルにて六世藤間勘十郎師の指導の下、金島桂華氏による舞台背景の前で『紅葉狩』を舞うなど、古典芸能への造詣が深く、小松均氏をはじめ、日本画家とも広く交流。偉大なる数々の美を守ると同時に、時代の求める新たな作品に挑み続けている。

After Kayo Wakamatsu passed away in 1974, his daughter assumed his name and took over the reins of his company, Wakamatsu Co., Ltd. The second generation Kayo Wakamatsu is well versed in traditional Japanese performing arts, having learnt classical Japanese dance from an early age. She has given her own dance recital under the supervision of Kanjuro Fujima VI and performed for the play "Momijigari" in front of the stage screen by Keika Kanashima. She also enjoys a close relationship with numerous Japanese artists, including Hitoshi Komatsu. She continues to create items that meet the changing needs of the times, while preserving the splendor and beauty of the masterpieces she inherited.